Need a solution for sending and receiving SMS from any computer, cell phone or Mobile device that has Internet access? Atservice Bulk SMS requires  no installation and can be accessed from anywhere, anytime!
Easy to learn, easy to use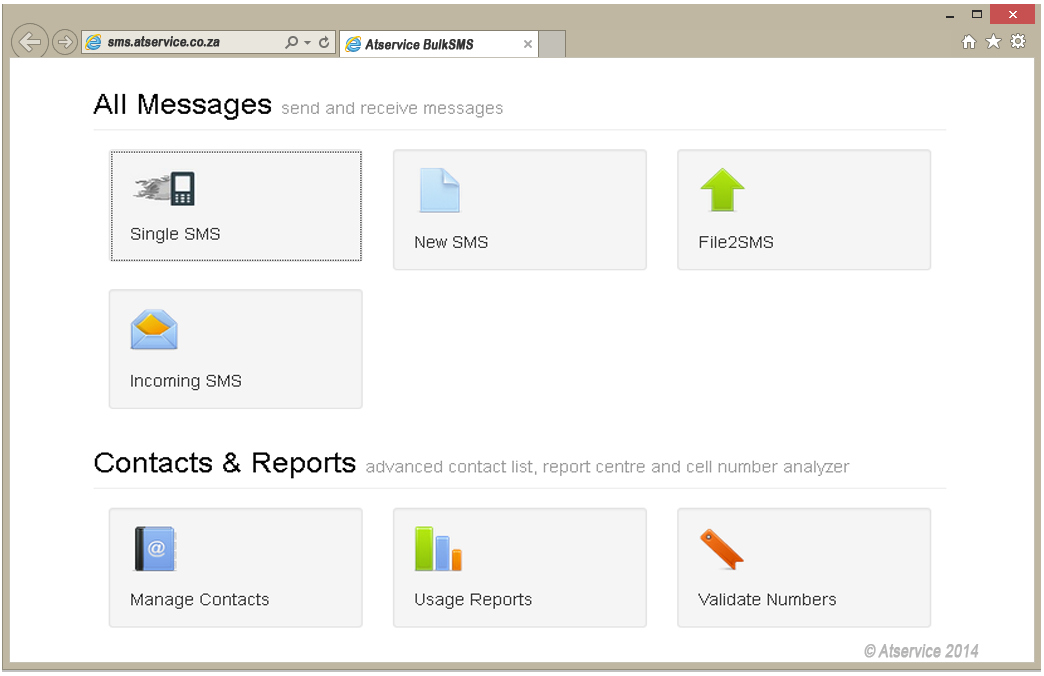 Send sms as easily as you send email
You can reach one contact or a bunch of contacts with the same ease. Copy and paste your contacts into the numbers field without adding them to any lists or add all your contacts to groups and a contact list. You decide – whatever is easier for you.

Great for marketing
Limit the amount of messages sent per day. Ideal for marketing campaigns. Set it up once and get on with marketing.  You receive all your replies in one place in stead of flooding your private cellular with business communications.

Verify if numbers in your list exist to cut outdated lists.
Using our unique verify option you can cut the clutter and save on large sms marketing batches. Or just clean up your customer contact list.
Unsubscribe supported
Allow clients to unsubscribe automatically. This protects you from legal claims and disgruntled customers.
Get all replies on your cellular
You can receive replies in the portal by default. Or at no charge you can receive replies on your cellular or your business standby phone.
Template SMS
You can use specific information like account balances in sms. Use information like names, addresses, telephone numbers from the address book.

No monthly fees
We only charge for BulkSMS credits so there are no monthly fees. All our prices include VAT. SMS Credits are valid for 12 months.